KHUMBU Pathways to Kinship
A real life story about a unique and special place, experienced in a unique way, over a period that is unlikely to ever be the same again.
Award winning: Mountain and Adventure Heritage Winner, NZ Mountain Film Festival book competition 2022; Alpine Landscapes Winner, NZ Alpine Club Photo competition 2021
Book reviews: Kathy Ombler, journalist – FMC, Andy Carruthers, Vertigo Editor – NZAC, NZ Listener, North & South, Farming, Fishing and Outdoors, CORANZ, NZ Booklovers, readers' feedback.
NZ$69.99 (includes gst and free postage within New Zealand). Available at batemanbooks.co.nz now and also in good bookstores.
Author interviews: Nine to Noon with Catherine Ryan Radio NZ National 30 Aug 2021, Magic Radio 15 Aug 2021, nzherald.co.nz 24 Aug 2021, Herald Travel profile 24 Aug 2021, Stuff Entertainment page Aug 2021, Dominion Post 28 Aug 2021, Wilderness Magazine Sept 2021, Radio Wanaka 21 Jun 2022.
Read about Producing a coffee table book, NZ Photographer Magazine, August 2021, What's good for Khumbu Excio Journal Oct 2021.
View a 30 minute presentation about the story behind the story (formal presentation starts 2min 15sec in).
Sherpa friends unite over KHUMBU Pathways to Kinship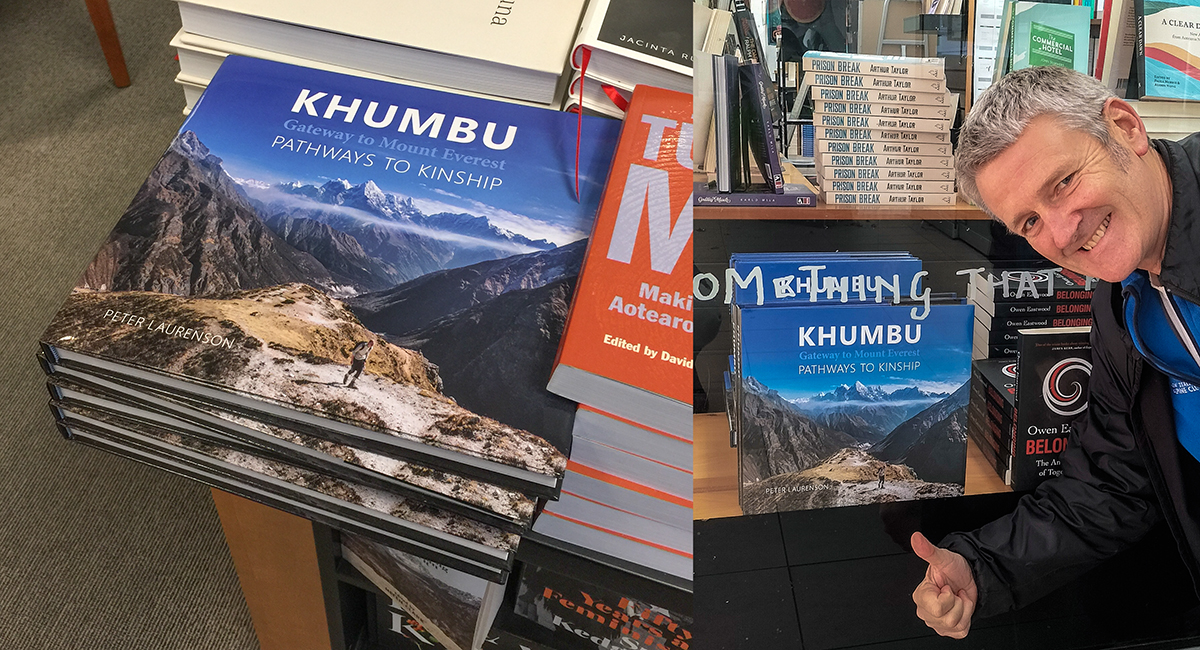 At the official launch at Unity Books, Wellington, 17 August 2021  Photos: Cathy Johnston

Back cover left and front cover right

Dedication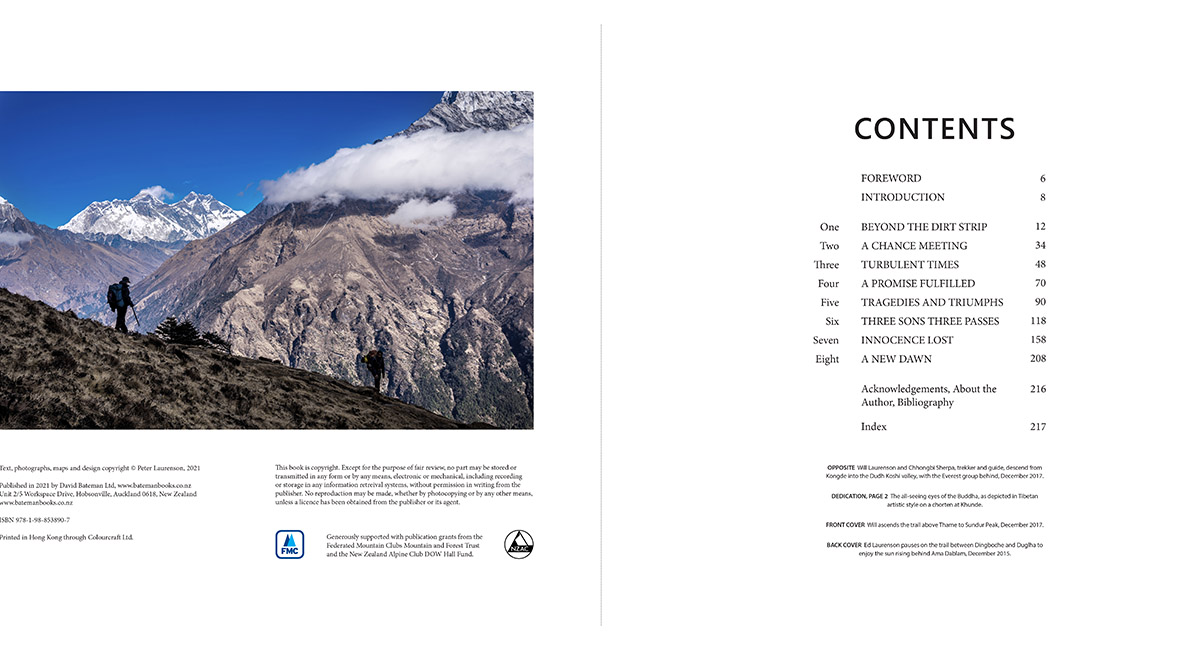 Foreword


Introduction


Introduction continued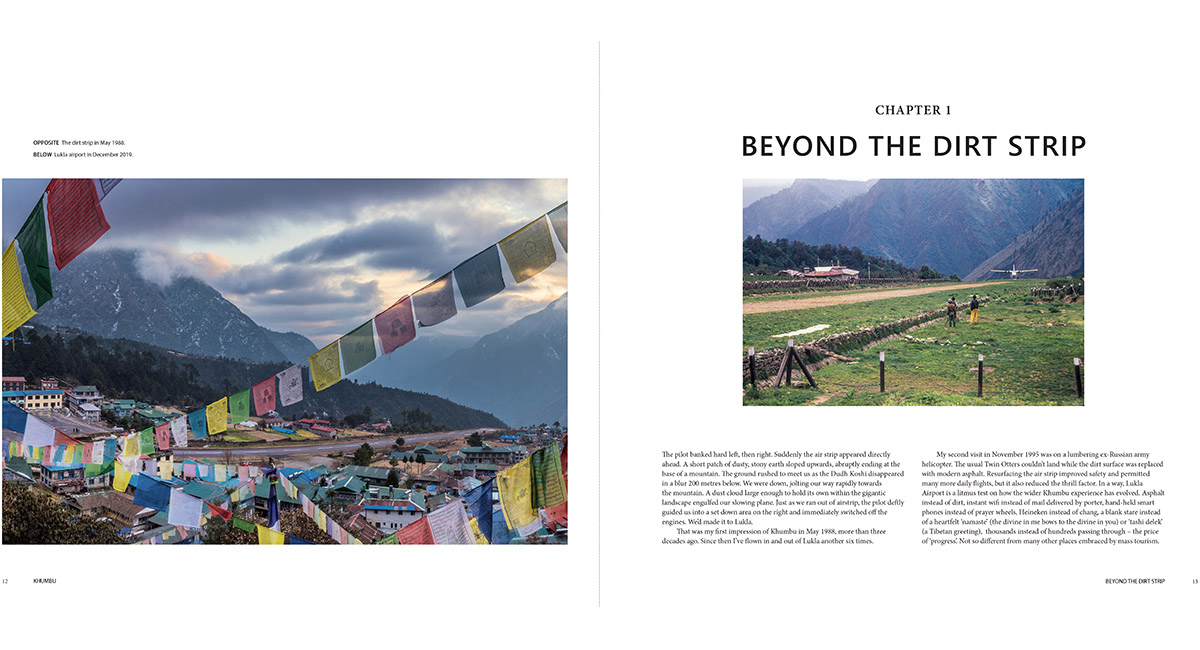 First double page spread, Chapter 1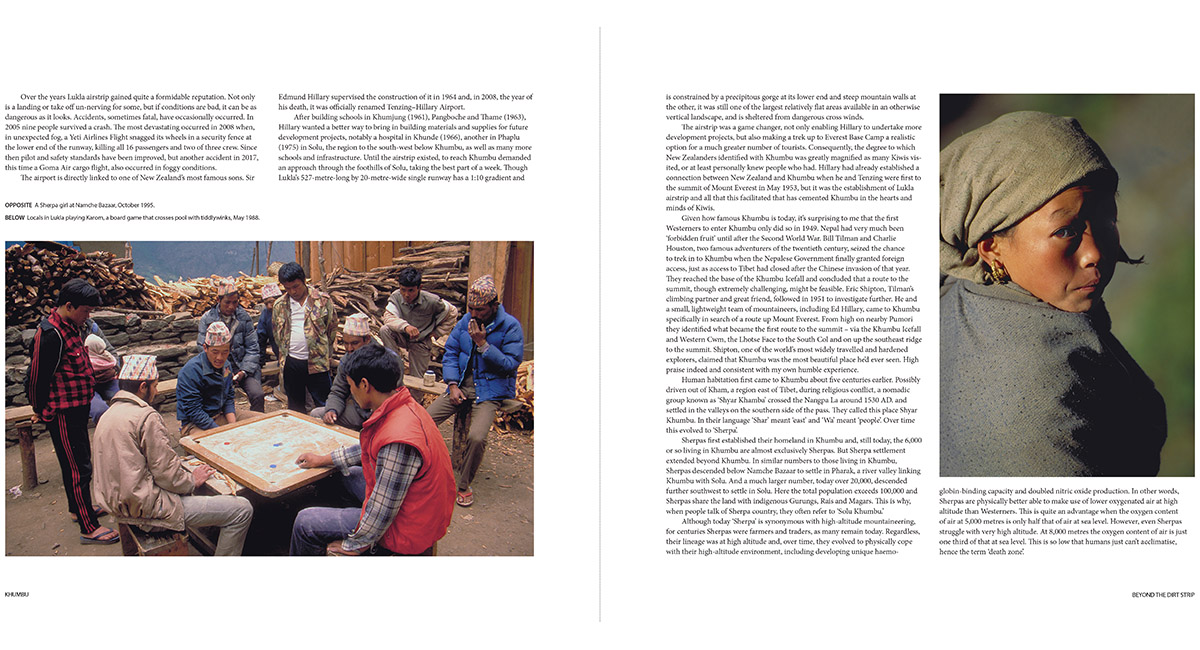 Second double page spread, Chapter 1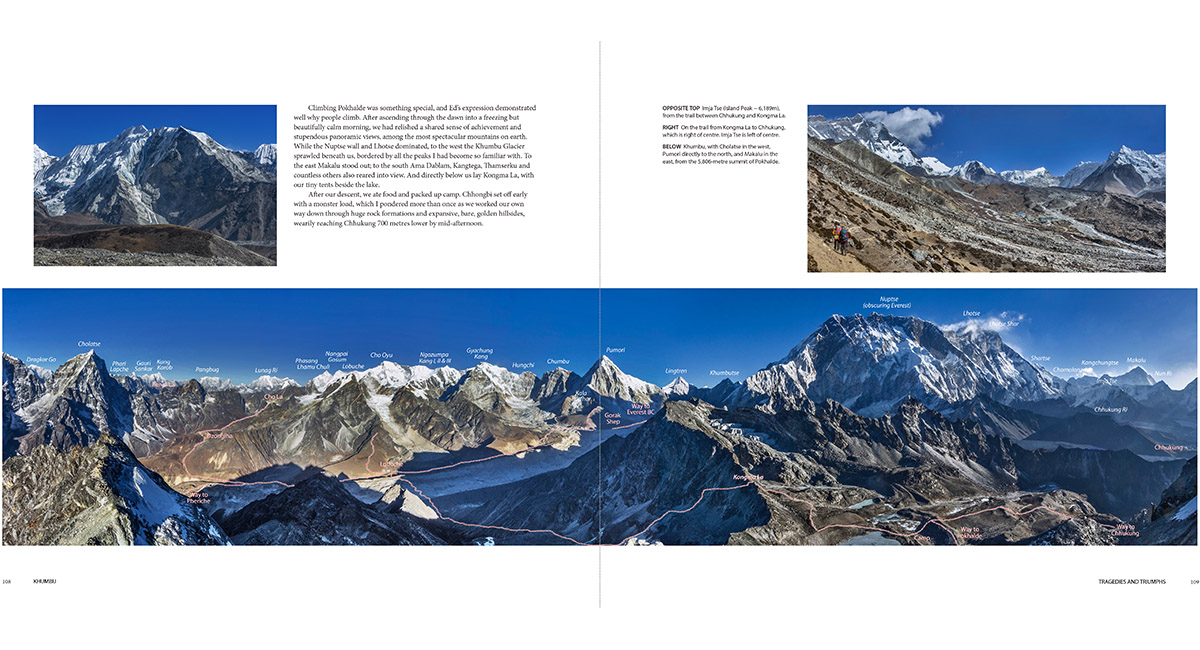 Double page spread, Chapter 5

View many more images of Khumbu and the wider Himalaya. Also at Excio.
In brief Ever since Edmund Hillary's ascent of Everest with Tenzing Norgay, New Zealanders have connected strongly with the mountainous Himalayan kingdom of Nepal. For over three decades, I repeatedly visited Khumbu, the Nepalese gateway to Mount Everest and home to the Sherpa people. On my second visit, a chance meeting with a Sherpa family sparked a friendship that grew stronger as I brought my three sons, each in turn, to trek through this enchanted region. Accompanying this unfolding story of kinship are my insights into Sherpa culture, the explosion of activity on Everest, and the changing nature of Khumbu as the area's popularity grew. Throughout, my photographs convey the essence of this remarkable land and its people.
My book encompasses seven trekking journeys spanning more than thirty years. But trekking in the mighty Himalaya is just the entre. My story is also about a journey to kinship between a Kiwi family and a Sherpa family; a journey through tourism expansion, the emergence of guided climbs to the summit of Mount Everest, economic and technological development and environmental, cultural and political change; and a journey shared by a father and each of his three sons.
Format Hardcover, 220 pages, 270mm high by 300mm wide. Approx 43,000 word narrative, plus 224 colour photos with captions, 50 in panoramic format.
Edited by Shaun Barnett, foreword by Guy Cotter, published by Bateman Books, printed in Hong Kong and recognised and supported with grants from Federated Mountain Club's Mountain and Forest Trust and New Zealand Alpine Club's Dow Hall fund.
Price NZ$69.99 (includes gst and free postage within New Zealand) at batemanbooks.co.nz Available now.