Ella Range circuit, February 2022

Mole Hut (1,175m)


Mole Hut (1,175m)

Inside Mole Hut, Shaun Barnett recording the events of the day


Climbing south-east to Mole Tops, here at about 1,400m

Tarns on Mole Tops, with Mounts Hopeless and Cupola in the distance

On the ridge of Mole Tops, heading south, looking north

On the ridge of Mole Tops, heading south to Point 1651


The tarn at 1,660m, just north of Point 1770

Looking south, from the saddle beneath Point 1770


Climbing Point 1770, looking north to Mole Tops


The view south from Point 1770

Approaching tarns in the basin south of Point 1770. Point 1785 and Mt Watson (1,871m) in the distance

Point 1785 and Mt Watson (1,871m) reflected


Point 1785 reflected in a tarn at 1,620m


Climbing south to Point 1785, with D'Urville valley beyond

A tarn just north of Point 1785, with Points 1770 and 1780 behind

In the basin just north and east of Point 1785


South and east of Point 1785 at about 1,700m. Mt Watson at left


The view north, from about 1,750m, north of Mt Watson

Skirting the east side of Mt Watson, with D'Urville valley at right


Trying our luck on the jagged ridgetop south of Mt Watson, here looking to Point 1870 and the Matakitaki valley


Still on the jagged ridgetop south of Mt Watson, here looking north to Mt Watson (far left)


On the east side, past Point 1870, with D'Urville valley right


A knife-edged section of ridge just north of Point 1860


The view south from near our campsite at 1,800m, with Point 1916 centre and Point 1931 left


The first of two large tarns at 1,740m, beneath Point 1916. The Mahanga Range behind


Approaching the second large tarn, Mahanga Range behind


View northeast from the tarn to Mt Cupola


View northeast from the tarn to Mt Cupola (distant right of centre) and Point 1870 (left)


The second large tarn, with Point 1916 at right


The second large tarn, with Point 1916 at right


A view west from Point 1860, above our campsite, to the Matakitaki River

A dusk view east from Point 1860


The dusk view north and east from our 1,800m campsite. Point 1870 left and Mt cupola distant right


Point 1870 and Mt Cupola (2,260m) at sunset


Mt Cupola (2,260m) at sunset


Point 1870 and the Mahanga Range at sunset


Sunset view south to Point 1916

Sunset view south to Point 1916 (far right) and the Mahanga Range


Sunset view south to Point 1916 (far right), east to the Mahanga Range, and north to Point 1870 (far left)


Dawn view north to Point 1870, and east to the Mahanga Range


Dawn view west from Point 1860, above our campsite, to the Matakitaki River cloaked in low cloud


Dawn view north-east to Mt Cupola (right skyline)


Dawn view north to Point 1870 and north-east to Mt Cupola (right skyline)


A view back to the large tarns and Mahanga Range, from the saddle (1,860m) just west of Point 1916


Sidling the west side of Point 1916, with Nardoo Tops and Emily Peaks in the distance


Finding our way around the west side of ridge between Points 1916 and 1931

The view south, of the west side of the Ella Range, from a saddle (1,840m) west of Point 1931


The view north, of the Ella Range and D'Urville valley, from a saddle (1,840m) west of Point 1931 (far right)


A beautiful un-mapped tarn in the basin just south-west of Point 1931


A beautiful un-mapped tarn in the basin just south-west of Point 1931


The view south to Point 2189 and Mt Ella (2,263m), and east to the Mahanga Range, from about 1,880m

Trying our luck again on the ridgetop south of Point 1931


Retreating from the ridge down a steep chute, north of Point 1972

Considering our options from the saddle at 1,780m, west of Point 1972. At left is Point 2105. Later we discovered that the saddle giving access to McKellar Stream is the one on the left (2,000m). We tried the righthand one (1,960m) first!


A view north from just north of the righthand saddle. Shaun is the tiny figure bottom left of centre, about 60m below

Now approaching the correct saddle. Here a view north to Point 1972 (centre) and the D'urville valley (right)


The view south at 2,000m from the saddle, looking down 800m to the treeline and head of McKellar stream - our campsite that evening


Taking a load off while contemplating our route down from the saddle 800m above. It's the pronounced V just left of the double-headed pyramid on the right skyline


There are some beautiful cascades near the head of McKellar Stream, here at about 1,100m

Further down, before we hit the nasty steep section between 900 and 800m


After exiting McKellar Stream, looking south, up the Matakitaki River, to the Spenser Mountains

Enjoying easy, shaded trail on the true right of Matakitaki River


But when we least expected it, river erosion and lack of track maintenance saw us again groveling through scrappy bush - not out of the woods yet!


Back on easy ground at Windfall Flat (420m)


Our final campsite, just north of Watson Creek. Looks tranquil, but …


Sandflies! These ones are between the tent fly and inner. I had killed the 100 or so that got in when I entered


Our final road trudge back around to the car at the base of Jameson Ridge Track - an early start due to the arrival of drizzle, and sandflies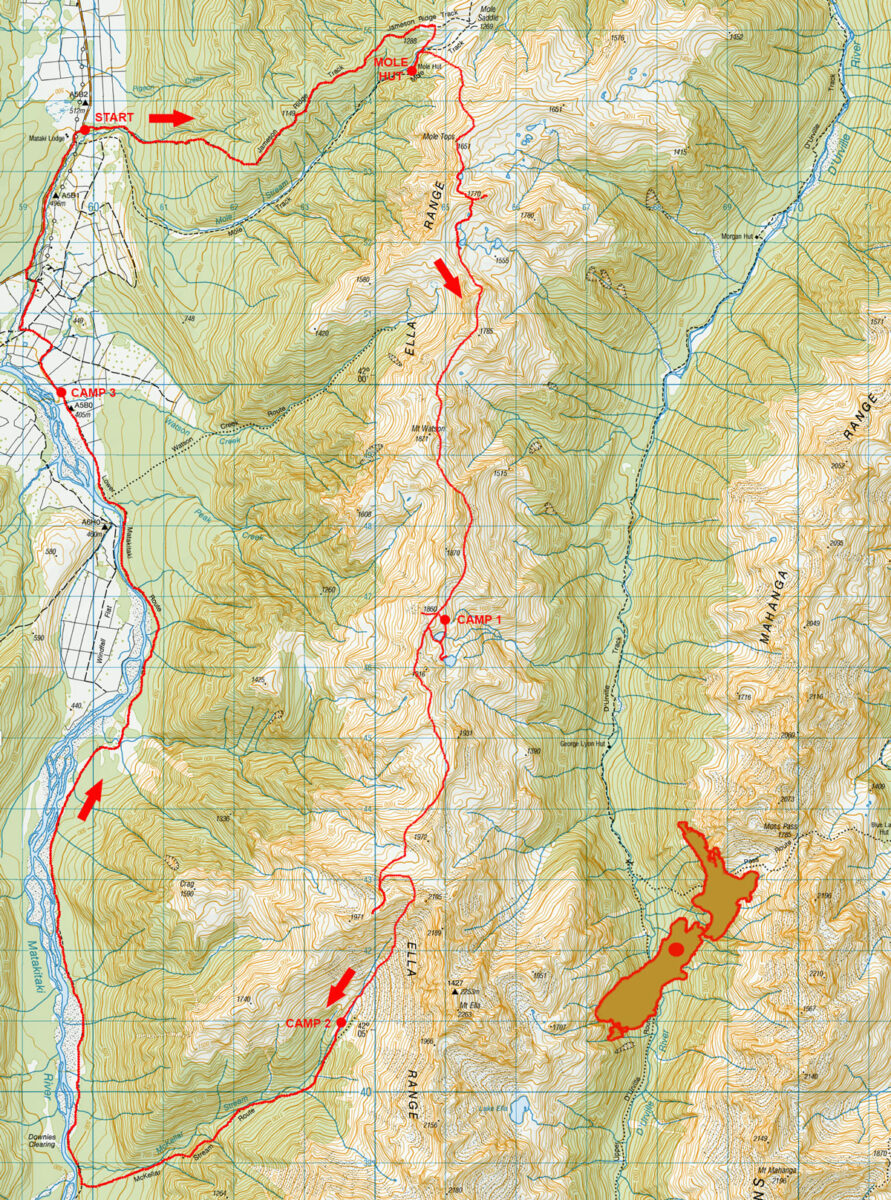 To order a print or web resolution file of any image you see in this slide show, just right click the image, click "Copy Image URL" and paste in to the "Your message" box of our Contact Us form. Please also note, for each image, if you want a print or web resolution file. We will get back to you as soon as possible to confirm price and payment details.
Open Contact Us in a new window to paste Image URL(s) easily